Idea
Our new lightweight electro-paramotor ST-Electro Lizard is the result of a consistent two-year development.
The goal was to build a lightweight, powerful yet safe engine.
In 2014 we replaced the 24AH battery with a 50AH battery in our successful ST-Electro. From January 2015 onwards, the ST-Electro is equipped with the BMS (battery management system). This dramatically increased the flight time, but we also had wishes from pilots to create the lightest version of the electromotor for a lower price.
This model similar to the previous engine has been designed primarily as a help to get the thermals or go soaring, but can also be used as a normal paramotor for light pilots. In addition, the battery capacity can be doubled by an additional battery which can be added in a few moments.
The Lizard does not replace his older brother, the stronger ST-Electro with 50AH battery. This remains equipped with the most modern technology of BMS, the right choice for pilots above 90kg and also for the pilots who want to fly with our trike.
Development
Reverting to the old components was out of the question. In 2008, the original device weighted 35kg with 24AH battery and had no longer met our high technical standards. For temperature reasons, it was not technically possible to halve the new battery unit of the 50AH. Thus, a completely new concept was developed during two years and it was successfully brought to the production stage. The result is a paramotor, which is lighter than the ST-Electro with 50AH battery by almost 13kg. The complete engine suspension, the configuration and programming of the electrical and electronic elements, the cooling of the battery and the lighter frame concept of the new alignment have been consequently adjusted. Thus, in the case of a moderate flight mode, also the significantly lighter battery can be flown out.
Harness and Frame
The harness (with airbag and integrated rescue container) and the glider suspension have not been compromised to preserve the high pilot's safety. So they stayed the same as at the ST-Electro.
The frame is, as in all our paramotors, made of titanium. It has been completely redesigned for the new lighter concept and optimized by more than 10% in terms of weight. At the same time, the passive safety of the pilot was always preferred to the weight reduction at any price.
Versions of the Lizard
The Lizard can be flown with one or two batteries, according to the wish of the pilot. In few moments the second battery can be added or removed.
If a pilot has a version with an attachment for one battery, in few minutes he can change the empty battery for the charged one.
Version 25
25AH (nom. 30AH) battery with holder for one battery
Recommended maximal pilot weight: 80kg
Version 2-25
50AH (2x 25AH batteries – nom. 2x 30AH) with holder for two batteries
Recommended maximal pilot weight: 80kg
Version 30
30AH (nom. 33AH) battery with holder for one battery
Recommended maximal pilot weight: 85kg
Version 2-30
60AH (2x 30AH batteries – nom. 2x33AH) with holder for two batteries
Recommended maximal pilot weight: 85kg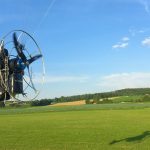 Technical details Version 25 and Version 2-25
1x 25AH (nom. 30AH) LiIon or 2x 25AH (50AH – nom. 60AH)
Version 25 has holder for one battery
Version 2-25 has holder for one battery or two batteries
Quick battery change possible
Weight incl. harness and one 25AH battery (ready to fly)
>27kg
Harness
Skyjam Paragliders Freestyle'R with airbag, carbon seat and two rescue pockets integrated into the harness, can be used also for freeflight
Propeller
Carbon-Three blade, 125cm
Quick mount

Cage
Titanium
Three parts
Frame
Titanium
One piece
Components
Carbon fiber
Glass fiber
Aluminum
Inox steel
no cheap components / 3D-Printer
Flight time
ca. >25min (25AH) and >45min (50AH) under power and without thermals and soaring (depends on a glider and wetter)
Use in flight
Thermals / soaring
Relaxed ppg flying
XC
no Trike

Pilot
Beginner with professional introduction
Experienced ppg
XC

Pilot's weight
55 – 80kg
Included
Paramotor with propeller
Harness
Charger
ready to fly
Technical details Version 30 and Version 2-30
1x 30AH (nom. 33AH) LiIon or 2x 30AH (60AH – nom. 66AH)
Version 30 has holder for one battery
Version 2-30 has holder for one battery or two batteries
Quick battery change possible
Weight incl. harness and one 30AH battery (ready to fly)
>28kg
Harness
Skyjam Paragliders Freestyle'R with airbag, carbon seat and two rescue pockets integrated into the harness, can be used also for freeflight
Propeller
Carbon-Three blade, 125cm
Quick mount

Cage
Titanium
Three parts
Frame
Titanium
One piece
Components
Carbon fiber
Glass fiber
Aluminum
Inox steel
no cheap components / 3D-Printer
Flight time
ca. >30min (30AH) and >50min (60AH) under power and without thermals and soaring (depends on a glider and wetter)
Use in flight
Thermals / soaring
Relaxed ppg flying
XC
no Trike

Pilot
Beginner with professional introduction
Experienced ppg
XC

Pilot's weight
55 – 85kg
Included
Paramotor with propeller
Harness
Charger
ready to fly